The Utah Open Source Conference will be held on October 8-10, 2009, at Miller Campus of the Salt Lake Community College in Sandy Utah. The Ubuntu Utah LoCo will be manning a booth at the conference, some members of the Ubuntu Utah LoCo will also be making presentations during the conference.
I will be representing Ubuntu at the *nix Distribution Round Table on Thursday afternoon where representatives from several Linux and Unix distributions will gather and discuss with the audience about the differences and similarities of their particular distribution and why they think it is a good choice.
by Mike
I recently got a new Dell Studio XPS 1340 laptop to replace my older XPS m1330 that was having video problems. The Dell Studio XPS 1340 is sold in Dell Ubuntu store but since Dell will not sell PCs with Ubuntu to Higher education institutions I ended up getting the Vista based model.
Comment: Come on Dell, selling Ubuntu based machines to Higher Education institutions is a no-brainer. The college crowd is going to be one of your biggest markets for Linux based computers.
Ubuntu works pretty much out of the box, even on the Vista version of the laptop. Only a few tweaks were needed.
| | |
| --- | --- |
| Device | Compatibility |
| Processor – Intel(R) Core(TM)2 Duo CPU T8600 @ 2.40GHz | Works |
| Screen – WXGA WLED Backlit LCD | Works |
| DVD – GS20N DVD+/-RW, 8X | Works (1) |
| Video – NVIDIA® GeForce™ 9500 G | Works |
| Sound – NVIDIA MCP79 High Definition Audio | Works |
| Wireless – Dell Wireless 1510 802.11n Half- Mini Card | Works (2) |
| USB | Works |
| Firewire | Works |
| Express Card Slot Reader | Works |
| Remote Control | Works |
| HDMI Port | Non Tested |
| DisplayPort connector | Non Tested |
| 1.3 MP Web Camera | Works |
| Media Keys | Works |
| Integrated 10/100 Network Card | Works |
| Hard Drive – 250GB Serial ATA 7200 RPM | Works |
| Headphones – both jacks | Works |
| Internal Microphone | Works |
| External Microphone | Works (3) |
| Hibernation | Works (4) |
| Suspend | Works (4) |
DVD/+-RW Drive: Dell recently released a new version of the firmware (A110) to add Windows 7 compatibly to the drive. This version of the firmware causes errors when trying to burn CD/DVDs. Downgrading to version A108 of the firmware fixes this problem.
Wireless: The Dell Wireless 1510 802.11n Half-Mini Card does work with Ubuntu after installing the Broadcom STA driver via System –> Administration –> Hardware Drivers. The card does generate errors and disconnects in Ubuntu 9.04 if you are connected to a wireless access point using WPA with TKIP encryption. The best solution I have to switch your wireless router to use WPA2 with AES encryption if possible. This problems seems to be solved in Ubuntu Karmic. The card/driver also has the problem of always shows 100% wireless strength when connected, I found no solution for this. If you can get the Dell 1397 802.11b/g card I would suggest it instead.
External Microphone: Works fine with tweaking in Ubuntu 9.04 but not at all in Ubuntu Karmic.
Suspend/Hibernate: Both seems to work fine even though they generate some errors in the kernel log.
by Mike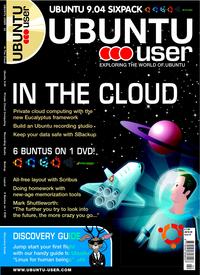 Issue 2 of Ubuntu User is now out. Featuring an interview with Mark (SABDFL) Shuttleworth, my second Q&A column (Answerbuntu), plus tons more Ubuntu goodness.
If you have any questions or suggestions for my Q&A column, be sure to send them to QandA@ubuntu-user.com or mike.basinger@ubuntu.com.
by Mike
I got an Amazon Kindle 2 this summer, it has DRM, and I love it (The Kindle). More on that later. The Kindle is a great gadget that has re-kindled (excuse the pun) my love of reading for pleasure.
Kindle 2 Specs
CPU: Freescale 532 MHz, ARM-11
OS: Linux-2.6.10
Display: 6-in diagonal E-Ink screen. 600×800 resolution with 16 shades of gray
Size: 8-in.x5.3-in.x 0.36-in., 10.2 ounces
Wireless: Amazon 3G Whispernet using EVDO/CDMA
Sound: Stereo with Text-to-Speech
Storage: 2 GB, but no SD card slot
Battery Life: Appr. 2 weeks with wireless disabled.
Formats (Text): DRM-Free Mobipocket books (MOBI, PRC), plain text files (TXT), and Amazon's proprietary, DRM-restricted format (AZW)
Formats (Audio): MP3 and Audible DRM AAX format.
The Good
E-Ink Display: The display is "worth the price of admission". The E-Ink display is easy to read, and your eyes react well to it. I have read on the Kindle for hours with no eye strain. It is much easier reading from the Kindle than a laptop. It is perfectly visible in bright daylight but is not backlit, so you will need a book light at night.
WhisperNet: The Kindle comes subscription-free with 3G networking from Sprint. While Amazon hopes you will use the WhisperNet to impulse buy books from their store, it works very well with GMail and other simple web sites. Do not use it on heavy AJAX/Javascript based websites. The Kindle 2 must have a nice antenna. I'm yet to find a spot, even deep in a building, that I unable to get an EDVO signal.
Battery Life: The battery life is great on the Kindle, since the device only uses power for wireless, or when you change the E-ink display. I get 7+ days of battery life with the wireless on, so the claim of two weeks is believable.
Works on Linux: The Kindle 2 is detected as a hard drive by Linux, making it easy to use with it. Calibre software is installable for most Linux distros, and auto detects the Kindle allowing quick syncing of non-Amazon download books.
The OK
Text-to-Speech: While obvious a computer voice, the Text-to-Speech feature in the Kindle 2 is quite usable. The voice is very easy to understand, and does not lull you to sleep by being too monotone. Amazon did give the Author's guild the right to disable Text-to Speech on certain books, but e-books that are purchased from from third party e-bookstores in mobi, prc, and txt allow Text-to-Speech.
In the "Amazon Irony" department, one word the Kindle has trouble saying is "Kindle".
Selection: The Amazon Kindle store boasts 300,000 Kindle titles. That is stretch, since many titles are multiple versions of public domain books formatted for the Kindle. On a random search of 30 history and fiction books I have on my bookshelf at home, I found 11 of the newer titles for sale the Kindle store. There are many third party e-bookstores that have DRM-free Kindle formatted books for sale to help expand the selection of books available for the Kindle. If you are a sci-fi nut like me, I would suggest the Webscription store, that sell hundreds of classic sci-fi titles DRM-free.
Storage: The 2GB internal storage give you plenty of room for thousands of e-books. The lack of an external storage slot make the Kindle useless for large amounts of audio or audiobooks. I would preferred the Kindle 2 be a couple of centimeters thicker to add a SD slot.
The Bad
DRM: Books in the Amazon Kindle store are in the AZW DRM-encumbered format. What can I say about this that has not been said a thousands times before? How can I support DRM and look my look my OSS friends in the eye? Easy, I (mostly) don't. 90% of the books on my Kindle are free public domain titles or DRM-free titles I purchased from a third party e-bookstore (see above). The only thing you lose by not shopping at the Amazon Kindle store is automatically deliver via WhisperNet, since the Kindle work so easily with Linux via USB, this is not a problem. Every time I purchase a DRM-Free book, I write Amazon to let them know my decision to take my business elsewhere due to DRM.
One thing the Amazon should allow is give authors the choice to use a DRM-free format in the Kindle store for their works. This would give independent authors a prominent selling point for their titles.
The Ugly
Remote Deletion: In July, Amazon remote deleted thousands copies of 1984 (Irony, thy name is Amazon) from Kindles, since they did not really have the e-books rights for that title. This was a poor decision by Amazon. Amazon should have worked a deal out with George Orwell's heirs, and ate the cost as the price of doing business. While Jeff Bezos apologies for doing this and said it would never happen again, I think action speak louder than words. Amazon should update the Kindle firmware and remove this ability.
In Conclusion
While it has some some tarnish, I think the Kindle 2 is a great gadget, which I hope encourages the spread of e-book devices. Hopefully book publishers will learn that DRM is broken, and actually hurts profit margins.
What I'm reading now: "The Art of Community" by Jono Bacon.
Forums Discussion: http://ubuntuforums.org/showthread.php?p=7804319
by Mike
"The Net interprets censorship as damage and routes around it."
- John Gilmore
"Bug #1 is fixed, we are still trying to get people to apply the fix (aka Ubuntu Linux)."
- Mike Basinger
by Mike
The Ubuntu Community Council has voted to add three new members to the Americas Membership Regional Board.
I would like to welcome Nick Ali, Greg Grossmeier, Martin Albisetti to the team. All three are well known and respected in the Ubuntu community and I look forward working with them in the coming months.
Congrats to all!
by Mike
Jorge Castro pointed this thread out to me, and it is the most awesome thread I have seen on the forums in a while. Please add any translations you can offer to the thread.

http://ubuntuforums.org/showthread.php?t=1159085
Peace baby \/
by Mike
The Ubuntu Utah Loco team invites everyone to Gourmandie's Bakery on 3rd South 3rd East, Salt Lake City, UT, USA from 6:00 PM – 8:00 PM on April 25th for the Ubuntu 9.04 release party. We will have free wifi and Gourmandie has killer deserts.
See you there!!!
by Mike
We are having Ubuntu Forums Council meeting today (Monday, April 20th at 20:00 UTC) and welcome people to stop by and join in the discussion.
by Mike
10 things you did not know about Karmic Koalas (or maybe you did)
They originate from Barcelona, Spain.
You can help create this wonderful creature from 25-29 May 2009 (http://wiki.ubuntu.com/UDS)
They will be available worldwide in October 2009, consider adopting one.
They may not be brown.
They are crafty hackers, since it is a unknown fact that bamboo make great cantennas.
They can make servers dance in the clouds.
A Karmic Koala is amazing looking, even when it first starts up.
They are one of the worlds fasts booting animals, much faster than the Chummy Cheetah.
Community, they like saying community more than Jono Bacon. Community Community.
Under their fur is another fist (of open source goodness).
by Mike